Wooden Box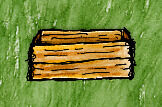 A Wooden Box is a storage tool made by combining rope with boards. It is an impassible structure that can store up to 4 large items, including a basket full of items. Boxes can be moved by adding a Long Straight Shaft, which turns it into a Wooden Sledge. The shaft can then be removed again by using an adze. A box is also used to make a Crude Car.
Boxes can also be upgraded into a Wooden Chest by adding Boards. The lid can be opened or closed.
The chest can be locked by using Lock and Key , which will place the lock and return Key. The chest can then be unlocked using a key of the same type as the lock used. Closing a chest with a lock will automatically lock it. So try not to lock the key in the chest which it unlocks. The lock can be removed by using a Lock Removal Key of the same type as the lock used.