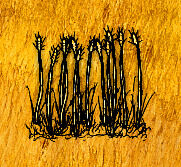 Ripe Wheat is a plant found in Yellow Prairies which can be farmed. It can be harvested for a wheat seed head or cut with a sharp stone for a Wheat Sheaf. Its products can be used in composting, baking, straw hat, baskets and adobe.
Cultivation
[
]
Harvest a Wheat Sheaf from a wild ripe wheat using a sharp stone, Flint Chip or knife and bring it to where you will plant your wheat. You can take wheat seed heads from the wheat sheaf, directly from the ripe wheat plant, or use a Bowl of Wheat. Either way, sow the seeds in a Deep Tilled Row and water the row using a Bowl of Water or full water pouch. After 6 minutes, the wheat will ripen and can be harvested.
Note: As individual wheat seed heads decay after 2 minutes, they must be used immediately, and it is pointless to attempt to stock up on them.
Uses
[
]
Ripe wheat can be cut using a sharp stone, flint chip or knife. The Wheat Sheaf can be removed leaving stumps which will disappear after 2 minutes. Use a Straight Branch or Small Curved Branch on the wheat sheaf to get Threshed Wheat. Once you remove the straw, you have 4 minutes until the straw decays, and 30 minutes until the wheat decays, so make sure you have a use for them beforehand.
A Bowl of Wheat can be harvested by using a clay bowl on the threshed wheat. It can then be used to plant more rows, or processed using a round stone to get Bowl of Flour which is used in cooking.
The Straw can be made into compost, baskets, adobe, or Straw Hats. The most important uses are the first two, as you need enough composted soil to continue farming, and it is impossible to harvest compost if you have no basket.
History
[
]