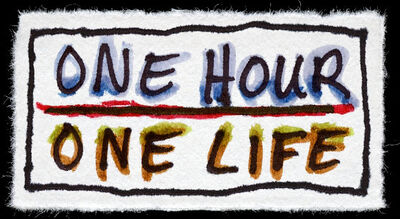 Welcome to the Official One Hour One Life Wiki!
The most comprehensive source of information about the Official One Hour One Life desktop version.
This wiki is maintained entirely by fans, and we welcome any new contributors. We are currently maintaining 4,585 pages (524 articles), written by 31,080,333 users.
(NOTE: Information specific to the the unofficial mobile port is NOT covered in this wiki. For more info see this page: OHOL Mobile).
About the game  •  Starting Guide  •  Life Stages  •  Crafting  •  Animals  •  Biomes  •  Power Users
About One Hour One Life
One Hour One Life is a multiplayer game of parenting and civilization building by Jason Rohrer. The game was officially released on February 27, 2018.
This game is about playing one small part in a much larger story. You only live an hour, but time and space in this game is infinite. You can only do so much in one lifetime, but the tech tree in this game will take hundreds of generations to fully explore. This game is also about family trees. Having a mother who takes care of you as a baby, and hopefully taking care of a baby yourself later in life. And your mother is another player. And your baby is another player. Building something to use in your lifetime, but inevitably realizing that, in the end, what you build is not for YOU, but for your children and all the countless others that will come after you. Proudly using your grandfather's ax, and then passing it on to your own grandchild as the end of your life nears. And looking at each life as a unique story. I was this kid born in this situation, but I eventually grew up. I built a bakery near the wheat fields. Over time, I watched my grandparents and parents grow old and die. I had some kids of my own along the way, but they are grown now... and look at my character now! She's an old woman. What a life passed by in this little hour of mine. After I die, this life will be over and gone forever. I can be born again, but I can never live this unique story again. Everything's changing. I'll be born as a different person in a different place and different time, with another unique story to experience in the next hour...
Featured Video
OHOL Links
Official Website  •  Official Forums  •  Steam Store  •  News  •  Artwork
Community
We are currently maintaining 4,585 pages (524 articles)!
Recent changes | New pages | Missing pages
How to help

See how you can help contribute to the One Hour One Life Wiki! Remember to maintain a standard for grammar and punctuation in your contributions, please.

Not sure where to start?
Register an account to keep track of your contributions.