This article may need cleanup to meet quality standards.
Please help
improve this
if you can. The
Discussion page
may contain suggestions.
Reason: "
Advice about temperature is outdated (Feb 2019)
"

Clothes are wearable items used for survival, function and aesthetics. They influence a player's temperature by an insulation percentage and in cold biomes can extend the time in which the hunger meter depletes. However, in desert, or while standing next to a fire, too much insulation can cause overheating which will cause the hunger meter to deplete more rapidly.
To put on clothes, pick up the item and click it on your character's body. To remove it again, click the clothing item you are wearing. It is possible to clothe babies by clicking the item on them. Babies can remove their own clothing, but cannot pick it up again from the ground. You cannot remove clothing while injured, which is particularly perilous with Yellow Fever, which increases your temperature.
Various clothes can be made from rabbit furs, wool, and other materials. All have different insulation percentages, with some purely cosmetic clothing such as Toque Blanche and crowns providing zero insulation. Other items, such as Backpack and aprons provide a carrying capacity, allowing a player to store up to five items on their body plus an additional carried item. Wool clothing can be dyed red or blue. Uniquely, Old Boot is not crafted, but can be fished from an Ice Hole using a Baited Fishing Pole.
Most clothing decays over time. Decay times can be found in the tables below.
For a full list of craftable clothes see onetech.
Fur Clothes
Rabbit fur is the primary material used to make fur clothing. The amount of fur used decides which item of clothing is made. Insulation percentages are included for each item. Fur can be cut with a flint chip to make Four Pieces of Cut Fur, which can be separated into Two Pieces of Cut Fur. A Needle & Thread is used to sew furs together.



Wool Clothes
Cloth Clothes
Dyes
Wool clothes (excluding Toque Blanche) can be dyed either red or blue. In addition, cloth clothes can also be died yellow, green or black. Excluding the apron, they have to be treated beforehand with simmering dye mordant made from alum. Dying a white apron with Simmering Rose Madder Dye will yield Red Cross Apron. Dying clothing prolongs the time until its decay (The base clothing will decay after 5 hours, dye-ready clothing will decay after 5 hours, and Dyed clothing will decay after 5 hours).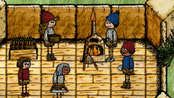 Colour
Image
Result
Recipe
Simmering Water
(Base recipe)

N/A
Add Bowl of Water to Hot Coals
Simmering Dye Mordant
(Pre-Dye)

Add Alum to simmering water
Simmering Rose Madder Dye
(Red)

Add Rose Madder Root to simmering water
Simmering Indigo Dye
(Blue)

Add Indigo Bundle to simmering water
Simmering Yellow Dye

Add Bowl of Indian Yellow Pigment to simmering water
Simmering Green Dye

Add Bowl of Indian Yellow Pigment to Simmering Indigo Dye
Simmering Black Dye

Combine Bowl of Vinegar and Bowl of Rust, then add the

Bowl of Black Dye

directly to Hot Coals
Other Clothes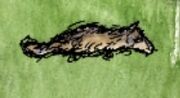 Rag Clothes
Most clothing (refer to decay time in tables) decays after 5 hours into rag clothes. They will then disappear after 30 minutes. There is currently no way to repair clothes.
Crowns
There are currently three craftable gold crowns available. The leaf crown, carrot crown, and wolf crown. They are purely aesthetic and do not provide any insulation.
Trivia
It is possible for babies to give other babies their clothes.
History
v.214 - Added 11 new clothing items, including those made from Bolt of Wool Cloth, as well as 3 new dyes (Green, Yellow, Black). Rebalanced R-value of hats.